This 3-Ingredient Easy Onion Dip Recipe is a delicious appetizer to serve as a side to fresh crunchy vegetables or your favorite chips.
Bonus, this onion dip is also low-carb, gluten-free, and ready in 10 minutes!
This easy onion dip recipe is the best last-minute appetizer for your party or grilling day.
What's A French Onion Dip?
A French Onion Dip, also known as California Dip or American Dip, is a thick, simple, and healthy dip traditionally made with sour cream and minced onions.
The easy version of the recipe uses a dehydrated onion soup mix to bring the onion flavors.
Why You'll Love This Recipe
This recipe is amazingly easy and tasty and it's also:
Gluten-Free
Egg-Free
Nut-Free
Low-Carb
Keto-Friendly
Only 3 Ingredients
Ready In Under 10 Minutes
How To Make 3-Ingredient Easy Onion Dip Recipe
It takes just 10 minutes to make this easy onion dip recipe all you need are simple ingredients that you probably have at home.
Ingredients
The 3 ingredient onion dip is made of:
Sour Cream – Sour cream is a simple dairy product that is keto-friendly and healthy.
Cream Cheese – Cream Cheese is a fresh keto-friendly cheese.
Ranch Dressing – I use my homemade ranch dressing recipe for the best flavors but store-bought works as well if you're in a rush.
Instructions
Making this dip is the easiest recipe!
All you have to do is to combine all the ingredients in a mixing bowl.
keto Quick Start Guide" src="https://www.sweetashoney.co/wp-content/uploads/keto-quick-start-guide-1.png">
Receive my keto Quick Start email series to learn all about the keto diet and kick start your keto journey!
You can use an electric beater to make it easier to beat the cream cheese and make it fluffier.
If you don't have a beater, you can use a fork or a potato masher.
Incorporate any of the optional ingredients to vary the flavors. You can place the dip into smaller ramekins and create different tastes for each.
Serving 3-Ingredient French Onion Dip
I recommend serving this easy onion dip with any of the following:
Fresh low-carb vegetables: such as cucumber, or celery.
Smoked Cauliflower or Buffalo Cauliflower.
Keto Tortilla Chips, Brussels Sprout Chips, or Keto Corn Chips.
Storage Instructions
You can store this dip for up to 3 days in an airtight container in the fridge.
I don't recommend freezing it as sour cream tends to crystalize and loses its texture.
Frequently Asked Questions
What is the difference between French Onion Dip and sour cream?
French Onion Dip is made with sour cream and onions, onion powder, or dehydrated onion soup.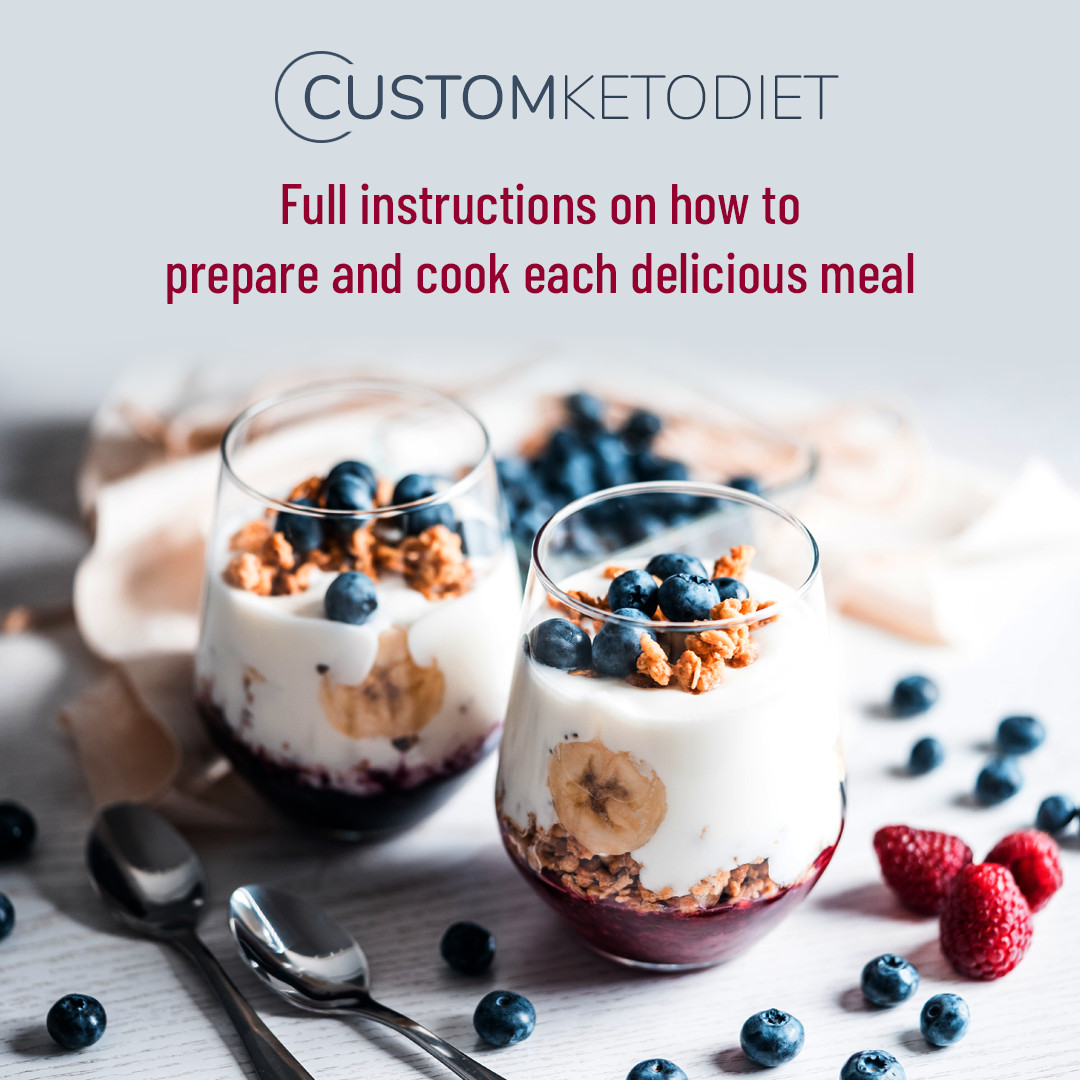 Is Caramelized onion dip the same as French Onion Dip?
Caramelized onion dip and French onion dip generally taste the same, but the former is made with fresh, caramelized onions while the latter can be made with onion powder or onion soup.
How Many Carbs Are In 3-Ingredient Easy Onion Dip Recipe?
This French Onion Dip recipe contains only 2.4 grams of net carbs per serving.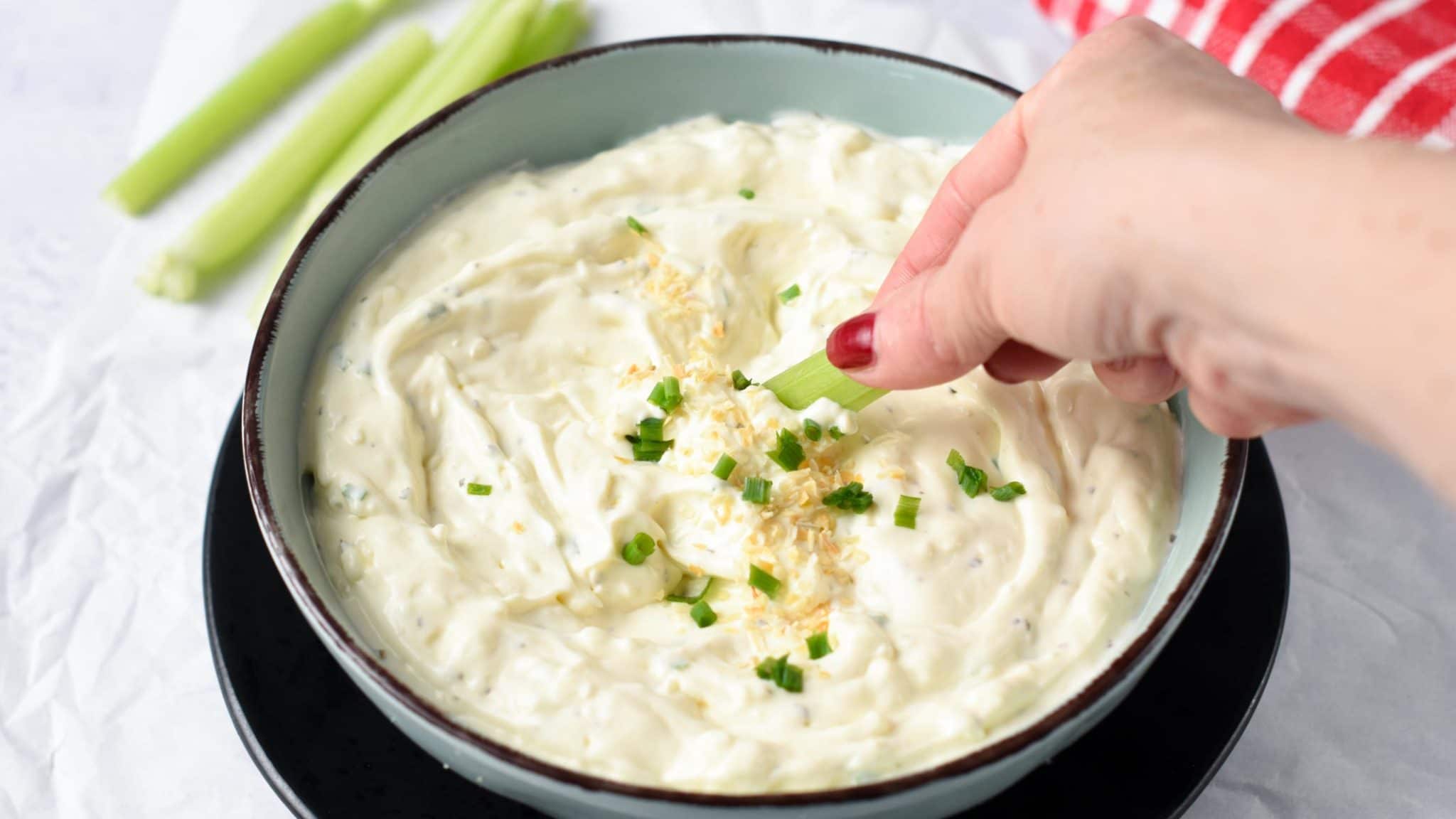 More Easy Dip Recipes
If you like simple dip recipes, you'll love these: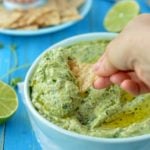 Recipe Card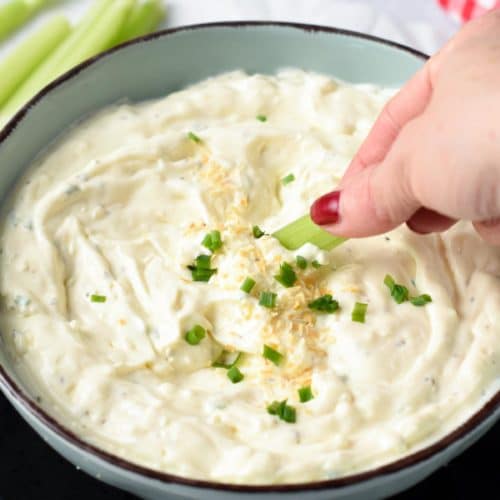 3-Ingredient Easy Onion Dip Recipe
2.4 g Net Carbs
This 3-Ingredient Easy Onion Dip Recipe is a delicious dip for raw vegetable or chips ready in less than 15 minutes.
Prep Time: 10 mins
Total Time: 10 mins
Yield: 8 servings
Serving Size: 1 oz
Net Carbs 2.4 g
Fat 11 g
Protein 1.4 g
Calories 112.8 kcal
New to Keto? Join my Keto Quick Start Guide now to get all the best keto tips for beginners, straight to your inbox!
In a mixing bowl, beat the cream cheese cubes, ranch dressing, and sour cream until smooth. You can either use an electric beater, a fork, or a potato masher.

Adjust the flavor by adding the suggested seasoning.

Serve with raw vegetables or your favorite crackers and chips.
To save your own private notes on your favorite recipes, join Sweetashoney Members !
Nutrition Facts
3-Ingredient Easy Onion Dip Recipe
Amount Per Serving (1 oz)
Calories 112.8 Calories from Fat 99
% Daily Value*
Fat 11g 17%
Saturated Fat 4.8g 30%
Polyunsaturated Fat 2.3g
Monounsaturated Fat 2.6g
Cholesterol 24.7mg 8%
Sodium 262.1mg 11%
Potassium 53.7mg 2%
Carbohydrates 2.5g 1%
Fiber 0.1g 0%
Sugar 1.6g 2%
Protein 1.4g 3%
Net Carbs 2.4g
Vitamin A 287.4IU 6%
Vitamin B12 0.1µg 2%
Vitamin C 0.6mg 1%
Vitamin D 0.1µg 1%
Calcium 32.7mg 3%
Iron 0.1mg 1%
Magnesium 3.9mg 1%
Zinc 0.1mg 1%
* Percent Daily Values are based on a 2000 calorie diet.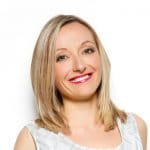 About The Author
Carine Claudepierre
Hi, I'm Carine, the food blogger, author, recipe developer, published author of a cookbook, and founder of Sweet As Honey.
I'm passionate about sharing easy, tasty recipes that are both delicious and healthy
Cooking and Baking is my true passion. In fact, I only share a small portion of my recipes on Sweetashoney. Most of them are eaten by my husband and my two kids before I have time to take any pictures!
Browse all my recipes here.
I hope that you too find the recipes you love on Sweetashoney!
Are you searching for a Custom-made Keto Strategy? Here you can create a personalized keto diet strategy: CustomKeto. The great feature of this plan is that it offers you everything you need to start burning fat instantly. You will certainly remain in ketosis within 48-72 hours, after that you'll be burning fat full time from that mention, and the food tastes incredible! Each meal was perfectly intended by a keto nutritionist as well as a first-rate cook. Yet virtually every meal can be prepared in less than thirty minutes.