These Broccoli Cheese Balls are delicious and healthy vegetable-loaded appetizers that can be served with a barbecue or as a food platter bite.
It's delicious dipped in any sauce like tomato sauce, hummus, or guacamole.
eggs and a bite of mozzarella cheese!" src="https://www.sweetashoney.co/wp-content/uploads/DSC_0080-3.jpg">
What Are Broccoli Balls?
Broccoli Cheese Balls are simple, healthy appetizers that are made with a large amount of broccoli, some cheese, and some healthy flours.
They can also be made with breadcrumbs, but the healthiest version contains almond flour and psyllium husk for a good amount of fiber and nutrients without the carbs.
Why You'll Love This Recipe
This recipe is a great simple appetizer:
Healthy
High in Fiber
Low in Carbs
Keto-Friendly (1.6g of Net Carbs)
Gluten-Free
Grain-Free
eggs and a bite of cheese! Broccoli cheese balls toddlers loves." src="https://www.sweetashoney.co/wp-content/uploads/DSC_0076-2.jpg">
How To Make Broccoli Cheese Balls
Ingredients
Broccoli – Broccoli is a delicious low-carb vegetable. Remove the feet of the broccoli, and chop the head finely.
eggs – Eggs are necessary to create the binding.
Almond Flour – Almond flour is a low-carb flour, perfect as a healthier replacement for panko crumbs.
Psyllium Husk
Grated Mozzarella – or any cheese like Emmental freshly grated with a box grater.
Onion – finely diced
Herbs and Spices – such as Paprika, Dried Oregano, Cilantro, Salt, Garlic Powder, and Pepper.
Preparing The Broccoli
Start by removing the feet of the broccoli florets. You can use them later to make a soup.
Only use the softer parts of the broccoli and chop them finely.
Steam the chopped broccoli for just 4 to 5 minutes over high heat. This short cooking avoids losing the nutrients from the vegetables.
You can also boil them for longer and the recipe would still work but steaming is better to keep the nutrient and green color.
Drain the broccoli florets using a clean towel and transfer them to a large mixing bowl.
Receive my Keto Quick Start email series to learn all about the Keto diet and kick start your keto journey!
Making The Broccoli Ball Batter
Add the eggs, grated cheese, and all the other ingredients.
Combine the broccoli cheese ball batter with a spatula until it becomes dense and sticky.
Line a large baking tray with lightly oiled parchment paper and form 20 broccoli balls with your hands.
Baking The Balls
Make sure to leave one or two inches of space between each broccoli cheese ball.
Bake the balls for 15 to 20 minutes at 400°F (200°C) until they have turned golden and the surface is crispy. 
Let them cool down for 5 minutes before serving them hot.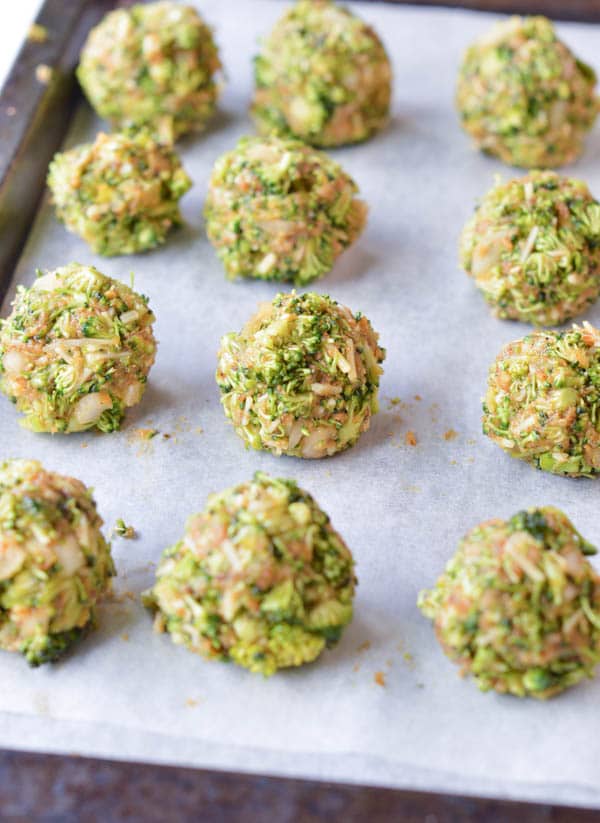 Serving Broccoli Cheese Balls
These broccoli cheese balls are perfect for a finger food platter. They can be served with my homemade ketchup, 4-ingredient guacamole, or with an eggplant dip.
They can also be served as a side dish to a Steak Alfredo, Almond Flour Chicken Tenders, or my creamy Keto Chicken Marsala.
Storage Instructions
You can keep the baked broccoli cheese balls for up to 4 days in the fridge.
They can also be frozen in zip-lock bags. Wait until they are fully cooled down before freezing them for up to a month.
Defrost the broccoli balls in the oven, or place them frozen on a cooking tray covered with parchment paper.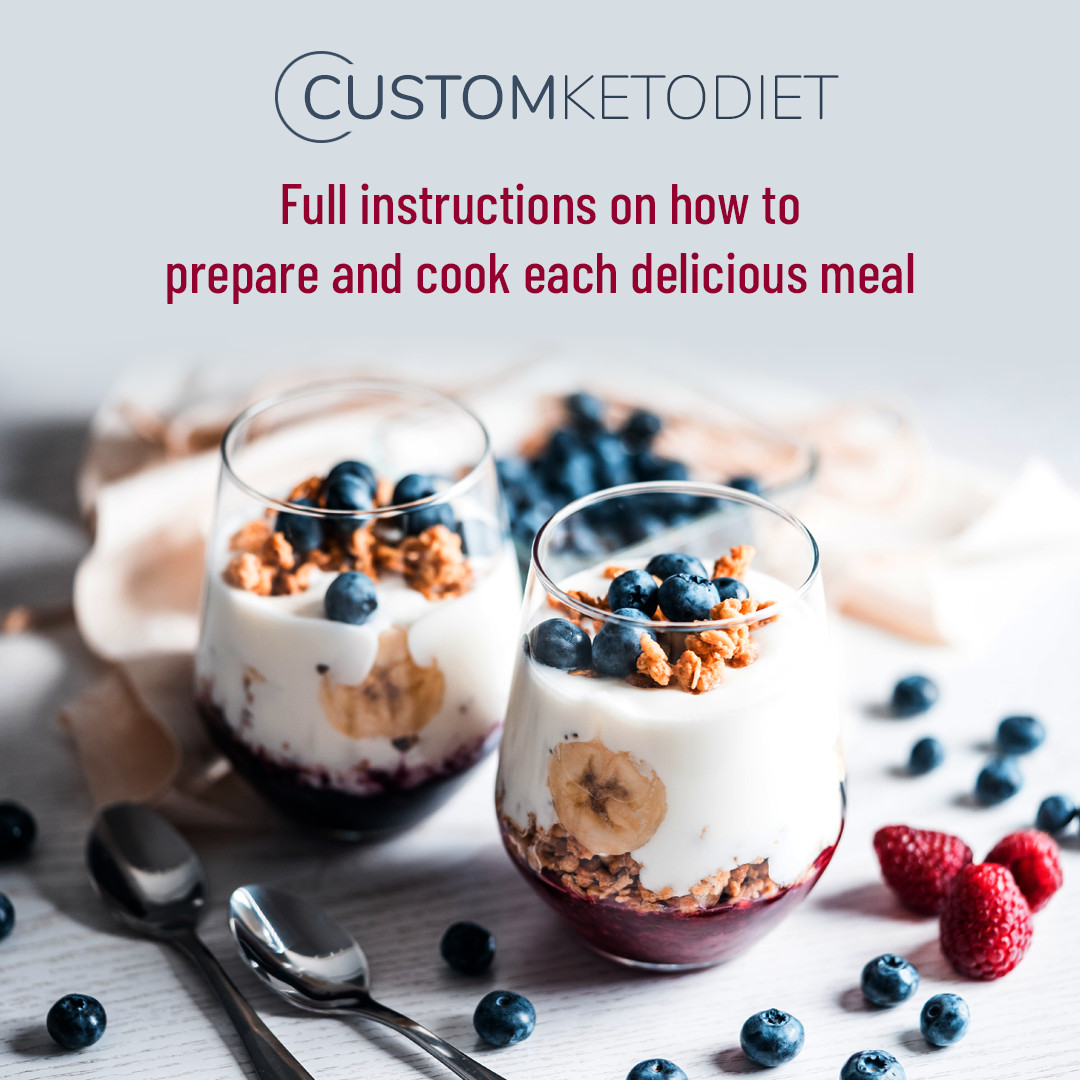 Cook them until they have defrosted and are crispy – it takes about 8 minutes at 350°F (180°C). Don't overcook are they will dry out. 
Allergy Swaps
You can't swap the egg in this broccoli ball recipe, but you can replace the psyllium husk and almond flour with other non-keto ingredients.
Almond Flour: Substitute the Almond Flour and Psyllium Husk for Panko Breadcrumbs, pick gluten-free breadcrumbs if you eat gluten-free.
Broccoli: if you don't like broccoli, make my Spinach Balls or Zucchini Balls instead.
Frequently Asked Questions
Can I Air Fry Broccoli Cheese Balls?
These vegetable bites can be baked in an air fryer. Place them on a single layer in the air fryer basket and cook them for 10 minutes at 400°F (200°C).
How Many Carbs Are In Broccoli?
Broccoli is one of the keto-friendly vegetables with only 4 grams of net carbs per 100 grams.
More Appetizer Recipes
If you like this quick appetizer recipe, I recommend trying the other low-carb party food below to pair with the broccoli bites.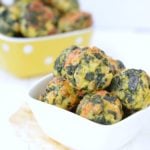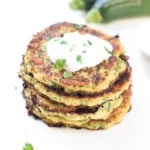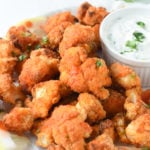 Recipe Card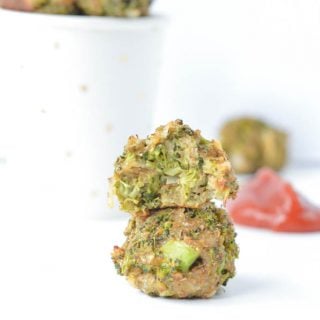 Broccoli Cheese Balls
1.6 g Net Carbs
These Broccoli Cheese Balls are a simple, healthy, and super-quick appetizer recipe to make a food platter for game day or as a side to a summer barbecue.
Prep Time: 15 mins
Cook Time: 15 mins
Total Time: 30 mins
Yield: 20 broccoli balls
Serving Size: 1 broccoli ball
Net Carbs 1.6 g
fat 4.7 g
Protein 3.6 g
Calories 66.6 kcal
New to Keto? Join my Keto Quick Start Guide now to get all the best keto tips for beginners, straight to your inbox!
Preheat the oven to 400°F (200°C). Cover a baking sheet with lightly oiled parchment paper. Set it aside.

Remove the broccoli feet and finely chop the broccoli head into tiny pieces. It will precook faster. Place into a steamer and steam for 2-4 minutes or until slightly tender. Drain and rinse with cold water to stop the cooking process and maintain the green colors. Don't overcook the broccoli to avoid a puree, All you want is slight softer broccoli pieces. You can also boil the broccoli pieces in a pot filled with boiling water, for the same 2-3 minutes, drain, and rinse with cold water. 

Transfer the broccoli pieces into a mixing bowl, cool them down for 3-5 minutes, then add all the other ingredients: almond flour, eggs, psyllium husk, onions, paprika, oregano, salt, garlic powder, and mozzarella cheese.

Combine with a spatula until it forms a batter that you can easily shape into balls with your hands. 

Slightly oil your hands with vegetable oil, scoop about a tablespoon of mixture, and roll it in your hands into balls. Press and roll until it comes together and shapes well. Wash your hands every 3-4 balls as it sticks a lot.

Place the balls on the prepared cooking sheet, leaving a thumb of space between each broccoli ball.

Bake for 15 minutes or until golden on the outside.

Serve hot out of the oven as an appetizer. 
To save your own private notes on your favorite recipes, join Sweetashoney Members !
Nutrition Facts
Broccoli Cheese Balls
Amount Per Serving (1 broccoli ball)
Calories 66.6 Calories from fat 42
% Daily Value*
Fat 4.7g 7%
Saturated fat 1.2g 8%
Trans Fat 0.1g
Polyunsaturated Fat 0.2g
Monounsaturated Fat 0.6g
Cholesterol 29mg 10%
Sodium 164mg 7%
Potassium 50.4mg 1%
Carbohydrates 3.3g 1%
Fiber 1.7g 7%
Sugar 0.5g 1%
Protein 3.6g 7%
Net Carbs 1.6g
Vitamin A 181.2IU 4%
Vitamin B12 0.2µg 3%
Vitamin C 8.3mg 10%
Vitamin D 0.2µg 1%
Calcium 53.5mg 5%
Iron 0.5mg 3%
Magnesium 4.6mg 1%
Zinc 0.3mg 2%
* Percent Daily Values are based on a 2000 calorie diet.
Are you searching for a Custom-made Keto Strategy? Here you can create a personalized keto diet strategy: CustomKeto. The great feature of this plan is that it offers you everything you need to start burning fat instantly. You will certainly remain in ketosis within 48-72 hours, after that you'll be burning fat full time from that mention, and the food tastes incredible! Each meal was perfectly intended by a keto nutritionist as well as a first-rate cook. Yet virtually every meal can be prepared in less than thirty minutes.