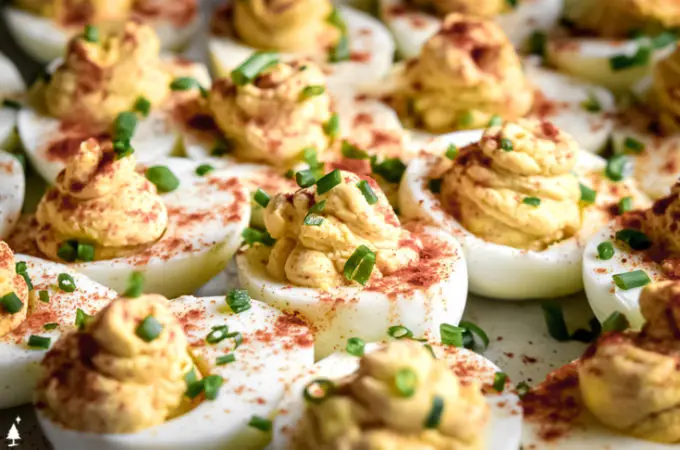 Cheddar cheese, crispy bacon, fresh chives, and a zap of smoked paprika – these keto deviled eggs are perfect for snacks, apps + lunches!
Looking for more ways to crack an egg? Have a look at these keto breakfast recipes, or try one of these best deviled eggs such as avocado deviled eggs or spicy deviled eggs.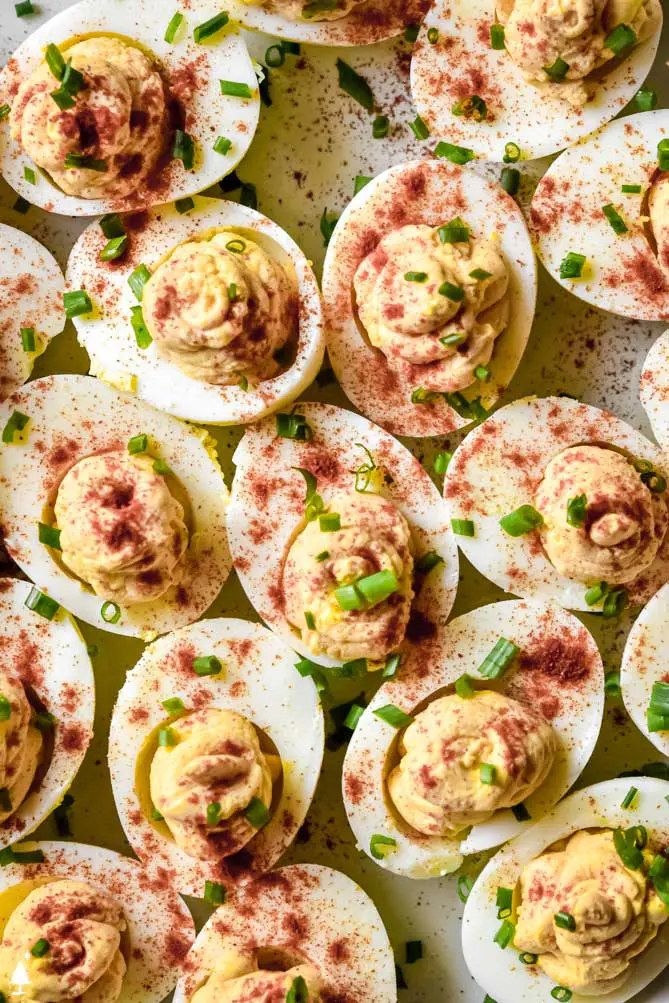 The Egg Lady
Near where I live there's a super sweet lady who raises chickens. She keeps them because she just really loves chickens, and she talks to them like they're her chaotic group of friends. They all have special names, and they come when called. She even has special songs she sings to them that signal different things like breakfast, or coop cleaning, or even cuddle time.
A side effect of keeping happy, healthy chickens is that you end up with a lot of eggs. So she sells what she and her chickens can't eat (Yeah, chickens eat their own eggs!). I really love when I can get eggs from her because I know that they came from a chicken who is super loved and really well taken care of. Plus she's really fun to talk to and she always has a new crazy story to tell.
Whenever I get a fresh batch of eggs I like to make these keto deviled eggs. The egg white and yolk filling just have such a satisfying texture, and the creamy blend of flavors is straight-up addicting. I make these for snacks, and sides, and sometimes all on their own for a light lunch. Enjoy! 😋 – Linds x
Ingredients Notes + Subs
Eggs – Check out my tips below for easy hard boiled eggs. If purchasing already cooked eggs, read the ingredient label carefully to ensure eggs are the only ingredient — preservatives will give your easy deviled eggs an odd taste.
Mayonnaise – My favorite brand of mayonnaise is primal kitchen's paleo avocado oil mayo. But, if you're not a fan, consider substituting it for keto Greek yogurt. You can also make keto deviled eggs with avocado by using mashed avocado instead.
Tang – classic deviled eggs all have this addition. I keep it simple with a touch of dijon mustard, feel free to substitute for pickle juice or vinegar if you'd prefer.
Spice – Cayenne pepper only adds a bit of heat, so feel free to use more. You can also mix in some sriracha or hot sauce.
Bacon – We love bacon, which you can skip or substitute for your favorite protein. Think keto deviled eggs with shrimp, lump crab, or ham.
The goodies – This recipe calls for cheddar cheese and chives. Use what you love, such as keto deviled eggs with pickles or salsa. Or skip them for simple deviled eggs.
How to Make Keto Deviled Eggs
Fill a pot large enough to hold your eggs with water and bring to a boil over high heat on your stovetop. Add eggs to boiling water, lowering into the water with a slotted spoon.
Cook this way for 30 seconds, then reduce the heat to your stove's lowest setting and add the lid. Continue to cook for 13 minutes.
Meanwhile, prepare an ice bath, and place cooked eggs in the ice water.
Peel and slice eggs in half.
Place yolks in a large bowl, along with the mayo, dijon, cayenne, and salt. Mash together with the back of your spoon.
Fold in the cheese, bacon, and chives.
Fill (either with a spoon, or by using a piping bag) the egg white halves with the yolk mixture, garnish with additional bacon and chives, and enjoy.
How do You Boil Eggs so They Peel Easily?
There are a few ways to make easy to peel hard boiled eggs…
The method I follow is to add the eggs to boiling water (most recipes tell you to add the eggs to cold water and bring everything to a boil at the same time). I lower them into the pot with a slotted spoon or a spider skimmer to prevent cracking. The warm water method makes them significantly easier to peel!
I have read other solutions, such as adding 1 tablespoon of both salt and white vinegar to the water before bringing it to a boil but haven't personally tried this myself.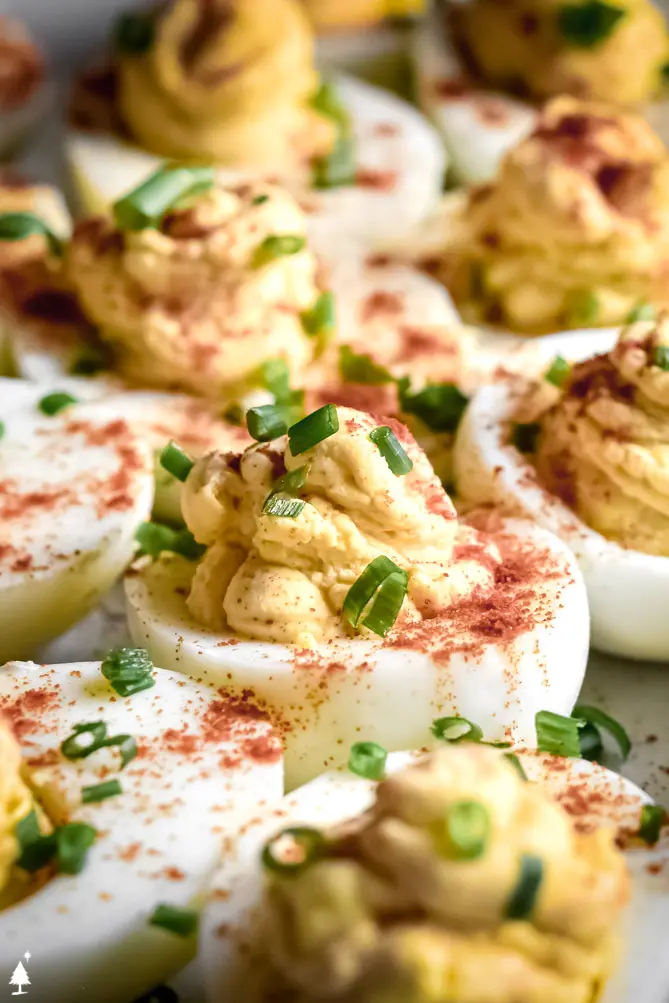 How Far Ahead Can You Make Deviled Eggs?
How long do deviled eggs last? If you can't store them all in your belly (hah), you can store any leftovers in the fridge. They'll be good in there for a couple of days but they're best when made fresh.
(Creative) Leftover Ideas:
If you have leftover deviled eggs with bacon that you want to use up, you have options. Here are my favorite ways to use them:
Chop them up to make a deviled eggs with bacon sandwich with one of my keto bread recipes, or lettuce wraps.
Add them into your next batch of keto salads for an easy spin-off Cobb salad.
Or, use radishes or cauliflower for a keto potato salad.
More Keto Breakfast Recipes
Egg Muffins
Keto Oatmeal
Keto Breakfast Cookies
Keto Quiche
Keto Pancakes
Keto Deviled Eggs
Print Recipe Pin Recipe
Servings : 12 Whole Eggs
Prep Time 15 mins
Cook Time 25 mins
Total Time 40 mins
Ingredients
▢

12

Large Eggs

▢

1/2

Cup

Mayonnaise

▢

2

Teaspoons

Dijon

▢

1/2

Teaspoon

Cayenne Pepper

▢

1/2

Teaspoon

Kosher Salt

▢

2

Tablespoon

Chives

chopped + extra for topping

▢

1/4

Cup

Bacon

cooked + crumbled. about 4 pieces

▢

1/4

cup

cheddar

shredded
Instructions
Hard boil the eggs. Add enough water to cover eggs by at least 1" in a large pot (don't add eggs yet). Bring water to a boil, then add the eggs, gently placing them in the water with a slotted spoon. Keep the stove at this temp for 30 seconds, then reduce the heat to your stove's lowest setting and place the lid on top. Cook the eggs this way for 13 minutes. While cooking, prepare a large bowl with ice and cold water. Remove eggs from the pot and place them in the ice bath. Allow them to chill for 5 minutes. Peel the eggs. Cut each egg in half lengthwise.

Make the filling. Carefully remove the yolks from each egg and place them inside a large bowl. Add mayo (1/2 cup), dijon (2 teaspoons), cayenne pepper (1/2 teaspoon), and salt (1/2 teaspoon), and mash the ingredients together with the back of a fork until well combined. Add the chopped chives (2 tablespoons), cooked, and crumbled bacon (1/4 cup). Stir to combine.

Decorate! Use a spoon to add egg yolk combo to the center of each egg white. Sprinkle the top with shredded cheddar (1/4 cup) and additional chives, and enjoy!
Rate this Recipe
Fans Also Made These Low Carb Recipes:
Lindsey's Tips
Nutritional information is based on 2 deviled egg halves:
Nutrition
Calories: 159 kcal Total Carbohydrates: 1 g Protein: 7 g Fat: 14 g Fiber: 1 g Sugar: 1 g Net Carbs: 0 g
©Little Pine Low Carb. Content and photographs are copyright protected. Sharing of this recipe is both encouraged and appreciated. Copying and/or pasting full recipes to any social media/website/blog is strictly prohibited.
Are you looking for a Custom Keto Plan? You can create a custom-made keto diet regimen strategy customketo. The wonderful thing about this plan is that it offers you everything you need to begin shedding fat quickly. You will certainly be in ketosis within 48-72 hours, after that you'll be burning fat full time from that point out. And also the food tastes incredible! Each meal was perfectly prepared by a keto nutritionist and also a first-rate cook. Yet virtually every meal can be prepared in less than 30 mins.