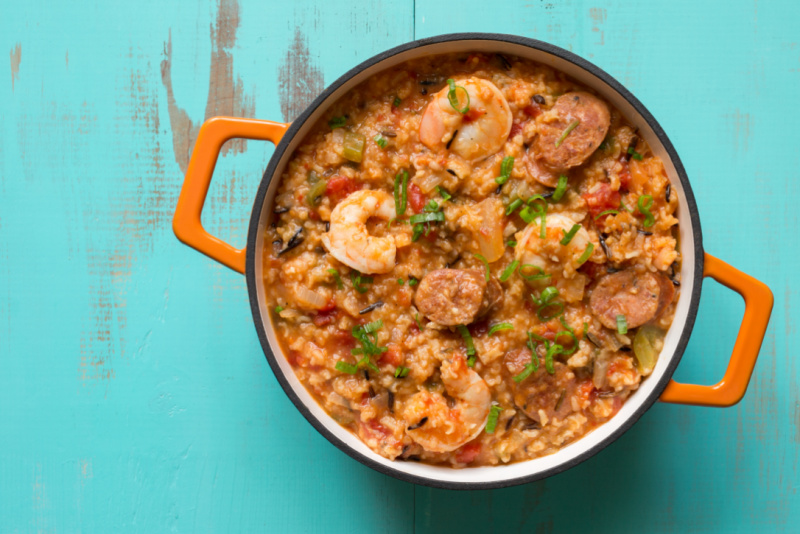 Are you looking for a Custom keto Zone Plan? Are you looking to lose weight or are you in dire need? There is no pill, medication or surgery to help you lose weight. It is a nutritional answer that may surprise you. Colbert has been a practicing physician for over 30 years and has elevated his nutrition, cancer treatment, as well as weight loss training to an entirely new level. Colbert helps you not only lose weight but also helps you plan a healthy lifestyle that you can live. If your looking to get into the keto zone take this quick quiz at custom keto to see your custom keto game plan.
Spring is a great time to celebrate with new recipes and flavors! It's time to shake off the Winter, and look forward to sunny beautiful days with fresh foods. If you're ready to enjoy delicious meals with friends or family, why not try our Beyond Keto Jambalaya? It's great for feeding a crowd and features deliciously flavorful and nourishing ingredients.
Despite the long ingredient list, this recipe is easy to make especially if you can do some vegetable prep ahead of time. And, it's absolutely worth the effort! Beyond Keto Jambalaya is destined to become a family favorite!
Beyond Keto Jambalaya
Ingredients
4 tablespoons Extra-Virgin Olive Oil, divided
1/2 cup onion, chopped
1/2 cup red bell pepper, seeded and chopped
▢1/2 cup green bell pepper, seeded and chopped
1-2 jalapeno pepper, seeded and finely chopped
2 stalks celery, diced – about 1 cup
6-8 garlic cloves, chopped
1 pound organic chicken breast or thighs (skinless/boneless), chopped
1 pound all-natural chicken sausage
1 can organic diced tomatoes (14.5 ounce)
1 teaspoon salt
1 teaspoon dried basil
1 teaspoon dried oregano
3/4 cup organic chicken broth
2 scoops Keto Zone™ Collagen Powder (Unflavored)
1 1/2 cup cauliflower rice (store-bought or from this recipe) 
1 pound shrimp, peeled and deveined
3 teaspoons cajun seasoning
1 tablespoon fresh parsley, chopped
Instructions
Heat 2 tablespoons of olive over medium heat in a large pan. Add onions, peppers, and celery. Cook and stir until softened and fragrant, about 4-5 minutes.
Add in diced chicken and sausage. Stirring constantly, cook until chicken is cooked through and no longer pink.
Add canned diced tomatoes, basil, oregano, Cajun seasoning and optional hot sauce (use hot sauce if you prefer spicy foods).
Cover and continue to simmer for ~3 minutes.
Meanwhile, mix chicken stock and collagen powder. Once mixed, stir in cauliflower rice and chicken stock mix. Bring to a light boil then reduce to low heat. Simmer for 15-20 minutes, continuing to stir often.
In a second non-stick pan, warm 2 tablespoons of olive oil over medium heat, add shrimp and sauté on each side until cooked. Season with salt, pepper, and Cajun seasoning.
Lastly, combine the cooked shrimps into the Jambalaya pan. Serve hot with chopped parsley. Add hot sauce if you want more spice. Serves 8.
Nutrition info (per 1 cup serving): 254 calories, 13.8 grams fat, 5 grams net carbs (7.3 grams total carbs, 2.3 grams fiber), 25 grams protein
Why Beyond Keto?
Are you familiar with Dr. Colbert's Beyond Keto ?
It's a revolutionary new approach to the healthiest Keto Zone™ lifestyle possible!
Beyond Keto is a book and lifestyle that will help you move further in your health journey. Specifically, it combines the best of the Keto Zone™ diet with the Mediterranean diet to support gut health, brain health, reduced inflammation, healthy aging, and more (1).
To learn more about Dr. Colbert's Beyond Keto , click here.
Healthy Attributes of Beyond Keto Jambalaya
Beyond Keto Jambalaya embodies both healthy Keto Zone™ and Mediterranean eating. It's:
Low-Carbohydrate: At only 5 grams net carbs per serving, Beyond Keto Jambalaya is a great meal that is satisfying, nourishing, and keto! Maintaining a low-carbohydrate keto lifestyle encourages healthy weights and full-body health (2, 3).
Anti-inflammatory: Beyond Keto Jambalaya combines many healthy fats including omega-9 monounsaturated fats from olive oil, and omega-6 fats from shrimp. Both fats encourage reduced inflammation  and great health (4)!
Full of Vegetables: Onions, peppers, tomatoes, celery garlic, cauliflower and more! The more vegetables you can pack in, the more you flood your body with antioxidants, anti-inflammatory nutrients, and detoxifying compounds!
Unprocessed and Real: Make meals at home, and leave out the processed chemical ingredients! There's no soybean oil, hydrogenated oils, or fake flavorings. Processed foods are at the heart of unhealthy eating, and contribute to most all modern chronic health issues (5).
Eating Beyond Keto does not have to be difficult or bland. In fact, it should be the opposite. Nourishing, flavorful, and easy.
Keep your foods simple and whole with Beyond Keto eating!
Bottom Line  
Don't let another day pass with boring unhealthy foods. Kick it up a notch with Beyond Keto Jambalaya. Then, learn to live a healthy lifestyle that promotes healthy weight, energy, mental focus, reduced inflammation, and vitality with Dr. Colbert's Beyond Keto !
Are you looking for a Custom Keto Plan? You can create a custom keto diet plan customketo The great thing about this plan is that it gives you everything you need to start burning fat immediately. You will be in ketosis within 48-72 hours, then you'll be burning fat full time from that point out. And the food tastes amazing! Each meal was perfectly planned by a keto nutritionist and a world-class chef. Yet nearly every meal can be prepared in less than 30 minutes.